let's get lacy!
his first bra makes for some very moist panties!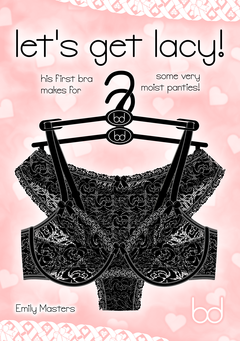 Buy your copy now!
A man never forgets his first time wearing women's underwear, no matter why he ends up in garments better suited for a girl. Whether he's pantied as a punishment, has to wear a bra as a forfeit for losing a bet or simply dons lacy lovelies while fooling around in the bedroom, such feminine attire is sure to bring out his submissive side - much to the delight of the woman dressing him up! It won't just be her underwear that'll be wet with excitement by the end of the night - when a man's spent the day all dolled up in dainty delicates for his wife's pleasure, his panties will definitely be damp too!
Luscious lingerie certainly works its magic as far as these couples are concerned, with each of these stories about men wearing frillies for the very first time showing just how much fun feminization can be. When these wives and girlfriends say "let's get lacy!", they won't be the only ones dressing to please, sharing the secret of sexy underwear with their men in a very special way.
Some men get surprisingly passionate about sport, but there's even more at stake for Jacob than just his team's pride when he makes a bet with his wife as to which of them will be the other's sex kitten for the weekend - complete with ears and tail! Having to wear baby blue lace is even more embarrassing when Chloe insists on humiliating her husband in his lingerie, making her new pet perform for her pleasure in his panties and bra. Nevertheless, he accepts his forfeit with good grace, finding out that being feminized is far more fun than he might have first thought. Follow his adventures in the other side's strip in A Bet's a Bet.

Tight tops and short skirts have a tendency to catch Evan's eye, but when his wife catches him ogling other women's chests once too often, she decides to take matters in hand - by giving her husband breasts as big as hers! Taking advantage of his penchant for clingy clothing, Faye shows her man just what it's like to be stared at, making him wear a black lace bra that's all too obvious beneath his thin white top as she punishes him in kind. He's sure to look at skimpy summer wear in a new light after his wife takes him out in some of his own, but will this humbled husband survive a drive through the city unscathed? Find out in Beep Beep Bra Straps.

A chance encounter in a car park leads to Liam getting caught up in a whirlwind romance - one that's made all the more exciting by lacy lingerie! He certainly doesn't have to worry about how to share his secret fondness for frillies with his new girlfriend, because Ruth finds the thought of him wearing pretty pink panties just as much of a turn on as he does. Wanting her boyfriend to wear a bra in order to prove his love for her, she's only too happy to dress up in sexy underwear herself - on the condition that Liam does too! It won't be long before their affair with intimate attire becomes even more amorous, as you'll discover in One Good Turn.

Jack's hair has earned him the nickname of Ponytail Princess from his girlfriend, but that doesn't stop him penetrating her like a man, taking Claire hard and fast rather than spending time on foreplay. When her playful teasing turns to the topic of panties, however, they soon find a softer side to their sexuality - one which sees him donning the virginal white lace of a blushing bride as they slow things down between the sheets. Learning to make love like a lesbian comes naturally to a man wearing stockings and suspenders, with this bra wearing boyfriend discovering the delights of giving oral pleasure - but will it be one-sided?
There are few things less manly than lacy lingerie, but that doesn't mean a guy can't get girly, no matter how reluctant he might be about wearing his first panties and bra. Indeed, as the women in these stories show, frilly underwear is fantastic for feminizing your husband or boyfriend, proving as sexy and seductive on him as it is on her. Romance and realism come together for these loving couples livening life up with a little lace, learning to share lingerie both in and out of the bedroom, so join in the fun and let's get lacy!
Buy your copy now!
let's get lacy! is available in the following formats: (which should I buy?)
Paperback - for those who love real books

PDF - for immediate download and enjoyment on your computer

EPUB - for most e-readers (including Apple and Nook)

Kindle

- for all Amazon devices
By buying a copy of this book, you do more than merely get yourself an arousing read! As well as encouraging the author, sales support the brassièred website, helping to promote the positive aspects of lingerie discipline, male chastity and men as maids in loving female led relationships.