humbled at her hands
demanding women giving sissies a hard time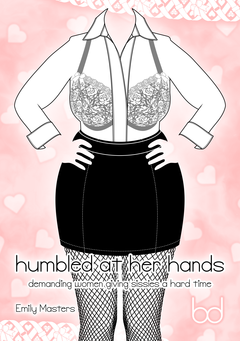 Buy your copy now!
It's not easy being a sissy - especially when faced with women who delight in making things difficult! The men in these stories about crossdressing and submission find that feminization isn't all fun and games, suffering for the amusement of their female superiors. There's plenty of punishment in store for them, but no chance of relief as they struggle their way through shameful situations, locked in chastity devices that deny them any hope of pleasure.
Whether he's having to work dressed as women, or submitting to secret disgrace, a bra and panties puts a man at the very bottom of the pecking order - a fact that his tormentresses are quick to take advantage of! Unable to assert his manhood, he can only do as he is told, having to obey even when that means further humiliation. In the office or at the doctor's, as a waitress or a girl, these sissies soon learn that women can be wonderfully cruel, their dominant wives and girlfriends happy to see them humbled at her hands.
Brian is literally chained to his desk, his chastity belt ensuring that he can't leave the basement office in which he must work. He's equally unable to escape his skirt and blouse, having to remain dressed as a secretary even as he processes endless piles of paperwork. Such a mind-numbing task is made all the more challenging by the high heels, huge bra and impractical false nails he must contend with, but that's nothing compared to what's in store for him when he's visited by a woman who doesn't take kindly to him being a man. He'll find himself grovelling at her feet before she leaves, but even friendlier faces leave him feeling emasculated. Find out how he fares in The Records Room.

With his wife going away for the weekend, Steven finds himself packed off to a special establishment - one which expects him to wear a schoolgirl's uniform during his stay! That doesn't mean this submissive husband is going to get a warm welcome, however, with the maid who answers the door making no secret of her sadistic streak. Whether under the guise of washing his face or feeding him his greens, she'll take every opportunity to see him suffer, wielding a cane with wicked delight at the slightest disobedience. With the taste of soap in his mouth, there can be no comfort for this sissy when he has to copy out countless lines, but things only get worse when he wets himself - as you'll discover when you read Very Silly Girl.

Richard knows his visit to the marital clinic is going to be humiliating, the metal locked between his legs making him anxious as he awaits his check-up. His chastity device isn't all that's keeping him on edge, however, his stockings and panties adding to his problems even before he's escorted into the doctor's office. Not wanting to let down his wife, he has no choice but to drop his trousers in front of a pretty nurse, but the young woman takes his emasculation perfectly in her stride - indeed, she's soon making his predicament even more punishing. Strapped helplessly to the chair, he must accept further shame as she penetrates him under the pretext of giving him A Thorough Examination.

Despite having to wear the same eye-catching uniform, Harry can't expect any help from his fellow waitresses as he scurries around the restaurant in a flared skirt and fitted blouse. When the two girls he works with aren't entertaining themselves at his expense, they're expecting him to make their own lives easier, flipping up his petticoats even as he has to take care of their dirty plates. With a manageress who's willing to use a wooden spoon to enforce discipline, and customers who won't stand for anything short of perfect service, this sissy waitress will have his work cut out for him! Read how he fares while having to work feminized and frustrated in Waitress Woes.
These sissies must wear women's clothes to show their submission, but they'll never be able to compete with those who do so by virtue of their sex, conscious of their inadequacy as they desperately seek to please. In these stories about men being reminded of their position both in private and in public, there's no question of who has the upper hand, with even the lowliest of women lording it over those condemned to chastity and crossdressing. Sometimes playthings to be toyed with for their superiors' amusement, sometimes dogsbodies who must slave away so that women don't have to, but never able to fully enjoy such embarrassing emasculation - no matter how aroused being humiliated might make them! It's a hard life for a sissy when he finds himself humbled at her hands.
Buy your copy now!
humbled at her hands is available in the following formats: (which should I buy?)
Paperback - for those who love real books

PDF - for immediate download and enjoyment on your computer

EPUB - for most e-readers

iTunes - for iPads, iPods and iPhones

nook - for Barnes & Noble e-readers

Kindle

- for all Amazon devices
By buying a copy of this book, you do more than merely get yourself an arousing read! As well as encouraging the author, sales support the brassièred website, helping to promote the positive aspects of lingerie discipline, male chastity and men as maids in loving female led relationships.