Help! I think I'm a sissy!
what to do about wanting to feel girly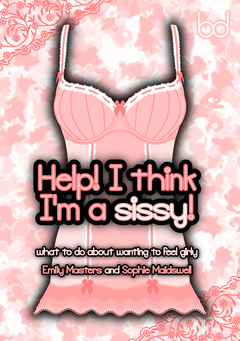 Buy your copy now!
Read a sample
Are you a man who dreams of dressing up in women's clothes and showing a more submissive side? If so, you may be a sissy - but what does that mean for you and those you love? That's what this book explores, covering everything you need to know in order to come to terms with being a submissive crossdresser. It's packed with thought provoking questions and illuminating insights that'll give you a deeper understanding of your desires, addressing the emotional, sexual and interpersonal aspects of wanting to feel feminine and submissive.
Examining the psychology behind popular stereotypes such as the sissy maid, slut, baby and bimbo, as well as explaining why fantasies featuring forced feminization, public humiliation and permanent chastity are so powerful, Help! I think I'm a sissy! also addresses the more practical problems sissies face - how to share your secret, stay safe and shop successfully are just some of the topics covered in this essential guide to all things girly.
Combining practical advice with an in-depth understanding of what motivates submissive crossdressers, this book shows that there's no need to feel ashamed of your softer side. Dispassionately dissecting the driving forces behind your desires and discussing the often overlooked differences between fantasy and reality, it's designed to make you think about what being a sissy means for you.
Help! I think I'm a sissy! considers questions commonly asked by submissive crossdressers such as:
Are sissies gay or bisexual simply because they like to crossdress?

What's the difference between a sissy, a transvestite and a transsexual?

Why do I feel so guilty after masturbating wearing women's clothes?

Why do men want to wear panties, bras and stockings under their clothes to work?

What do women think about men who want to wear their clothes?

How do I tell my wife that I'm a sissy or should I keep my desires secret?

Why do I want to be forced to dress up as a woman, then be punished and humiliated?

How do I find a girlfriend who'll love me as a sissy baby, bimbo or maid?

Is being a sissy sinful or perverted? Can I stop being a sissy?

How can a man find his panty, dress or bra size and buy clothes that fit without spending a fortune?

Why do men like to wear lingerie during sex or reverse roles in the bedroom?

How do I live out my fantasy of being dominated for real - and do I really want to?
From exploring what excites submissive crossdressers about dressing up to discussing the difficulties such desires pose in their relationships with others, Help! I think I'm a sissy! takes a no nonsense approach to all the areas affecting a sissy seeking acceptance of his alter ego - both from himself and those around him. Pulling apart popular myths and misconceptions about men who wear women's clothes and providing pragmatic solutions to the problems they face in the real world, it's got everything you need to know if you're looking to embrace your inner girl.
Buy your copy now!
Help! I think I'm a sissy! is available in the following formats: (which should I buy?)
Paperback - for those who love real books

PDF - for immediate download and enjoyment on your computer

EPUB - for most e-readers

iTunes - for iPads, iPods and iPhones

nook - for Barnes & Noble e-readers

Kindle

- for all Amazon devices
By buying a copy of this book, you do more than merely get yourself an arousing read! As well as encouraging the author, sales support the brassièred website, helping to promote the positive aspects of lingerie discipline, male chastity and men as maids in loving female led relationships.