crossdressing creatures
pets who love to play in lingerie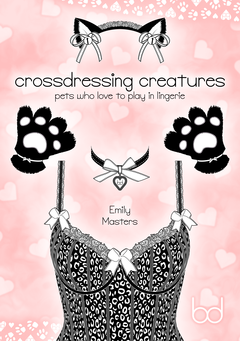 Buy your copy now!
Letting himself be dressed in lingerie is just the start of a man's submission when he becomes his wife's pet, as the husbands in these stories about erotic animal role-play are about to find out! Whether his mistress wants to turn him into a puppy or a pussy, you can be sure she'll make him look pretty, pampering her plaything with satin and lace before having him perform for her pleasure.
Nothing demonstrates a sissy's surrender more keenly than adopting the role of an adorable domestic animal, all dolled up in dainties as he accepts his place at the feet of his owner! From the discipline of dog training to the leisurely life of a collared cat girl, there's no doubt as to who's in charge of these house pet husbands when they're turned into sex kittens and kennel hounds for the amusement of their wives. Feminization and pet play come together to make for exciting stories of sissies who worship the women who own them, kept on a leash and in lingerie as crossdressing creatures.
Fuelled by far-fetched fantasises of females frolicking in frillies, Carl is dying to attend his wife's lingerie party, but Amber is determined that such a social occasion should be a ladies only affair. Pestering her once too often sees this horny husband put in bondage mitts and ball gagged to stop him from making a nuisance of himself, but that's only the beginning when Amber treats him to a lingerie party of his very own! By the time his wife has finished with him, Carl finds himself submitting to far more than just fishnets and a bra, forced to contend with collar and muzzle as he's led outside on a leash. With an unrivalled view of what his wife's friends get up to from the confines of the kennel, Carl will soon be drooling like a dog, but will he ever be able to act on his animal instincts? Follow his canine capers in In the Doghouse.

Dawn sends her submissive boyfriend away with strict instructions to find her something cute, but when Lawrence comes back with a picture of a pretty cat girl, he soon discovers his choice has unexpected consequences. It isn't long before he's being collared and belled when his girlfriend decides to turn him into her own little sex kitten, Dawn having him lick up more than just spilled milk as she makes him play pussy cat. She isn't content to simply feminize her boyfriend with frilly pink underwear, however, a fluffy tail and plush ears adding the finishing touches to an undeniably feline outfit. With the eponymous Kitten Mittens ensuring that he can't escape, Lawrence is powerless to prevent his girlfriend taking a few photographs of her new pet playing - as you'll read in this story about a man turned into a cat for his owner's entertainment.

When his wife decides he needs to show her more devotion, Luke finds himself transformed into her dog, having his freedom of movement taken away until he's helplessly in her power. Collared and corseted, he's forced to crawl around on all fours, with Natasha teasing her house-trained husband with tickling and toys before having him play fetch. Her panties make for an unlikely muzzle when his mistress rewards Luke for doing as he is told, but his wife makes him beg for more intimate attention, insisting on putting her puppy through his paces on a very short leash. Only after running through a repertoire of tricks is this canine crossdresser allowed any relief, but even then his ordeal isn't over - sent to the garage when a surprise caller comes round, Luke learns that a good dog must sit still! Find out how he gets on in Obedience Training.

Unexpectedly called into work, Megan isn't going to run the risk of her boyfriend getting up to any mischief in her absence - not when she can make sure he behaves by leaving him locked in a kitty collar and cuffs, complete with cat bells! Presenting his hands as paws, the padded pink leather that will keep Daniel prisoner is soon joined by leopard skin as his girlfriend dresses him in a daring babydoll and thong, such arousing attire only adding to his frustration when he's forced to slink around the house in stockings and stilettos. The feminized feline soon finds that cats can't just nap all day, having to finish a bowlful of food before his mistress's return, but will Megan appreciate him getting under her feet when she finally comes home? Read for yourself in Paws and Purr.
There's no question about the affection that the women in these stories feel for their sissy pets, rewarding their devotion with the love that only an owner can bestow upon an animal. Strengthened by unconditional surrender and spiced up with sexy lingerie, the very special relationship that exists between these supremely submissive men and the women who so completely control them serves to bring these couples ever more closer together. Combining feminization with pet play in the most exciting way, if you love sissy kitties and lingerie lapdogs, you'll want to check out these crossdressing creatures.
Buy your copy now!
crossdressing creatures is available in the following formats: (which should I buy?)
Paperback - for those who love real books

PDF - for immediate download and enjoyment on your computer

EPUB - for most e-readers (including Apple and Nook)

Kindle

- for all Amazon devices
By buying a copy of this book, you do more than merely get yourself an arousing read! As well as encouraging the author, sales support the brassièred website, helping to promote the positive aspects of lingerie discipline, male chastity and men as maids in loving female led relationships.