burdened by his bust
huge false breasts leave these men helplessly weak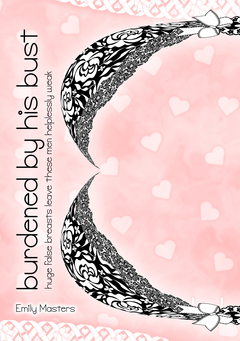 Buy your copy now!
Many men love looking at big breasts, but they don't like them so much when they learn just how bothersome having huge boobs can be! They soon come to hate the wobbling weight, begging to wear a bra simply for support, but that won't stop them suffering the humiliation of having people stare at their shameful curves - even before they discover the difficulty of finding clothes to fit them! Will they have to work in a blouse as well, or will stockings and panties be the means by which the women in charge emasculate them even more?
When it comes to putting a misbehaving husband or even an errant employee in his place, bigger is certainly better! In these stories about men having to wear huge false breasts to show their submission, there can be no ignoring the size of the silicone, with the biggest of bras barely capable of containing boobs that rival those of the most well-endowed of women. A man's back and shoulders won't be all that aches, however, when he's burdened by his bust.
Steven knows that he's in for a hard time when his wife's friend turns her attention to his false breasts as he serves her tea. The silicone that fills his bra is there to give his maid's uniform a more womanly shape, but Linda is unimpressed by its size. He'll need to fetch a pair of much bigger breasts to satisfy her, showing her how those that his wife reserves for discipline purposes affect what he wears. Having to abandon his pride along with his lacy lingerie, Steven must model a sturdier bra, being made to bend and stretch as Linda assesses how effective a huge bust is for teaching a man a lesson. Will this male maid be allowed to return to a smaller cup size? Find out in Entertaining Her Friend.

Paul provokes his wife's ire when his eyes keep wandering to busty women, but when she tells him she's going to give him big breasts of his own, he finds it difficult to take her seriously. It's only when Linda produces some all too realistic silicone that he realises the price she expects him to pay for his earlier pleasure, his wife refusing to speak to him until he does. She'll treat him to her hand once he's surrendered to the simulated flesh, but all too soon, Paul is suffering further humiliation as he tries to fasten his bra. Worse is to come when one of Linda's friends calls around, the two women spanking him for looking where he shouldn't. Follow his adventures in The Cost of His Crime.

Craig likes to look at the women he works with - and why shouldn't he, when they have such wonderful curves? His weakness for fitted blouses and bras lands him in hot water, however, when his boss demands to see him in her office. He finds it only too easy to ogle Ms Pennington's shapely figure, a fact that she takes full advantage of as she makes him drop to his knees. If he doesn't want to face a disciplinary procedure, he'll need to wear a pair of huge false breasts to show that he's sorry, but his female colleagues have more in mind for him. Stripped of his shirt and tie, he won't escape being made to wear the very garments that once caught his eye, as you'll read in Empathy Training.

After having to spend a night on the sofa, Brian knows he needs to make things up to his wife for coming home late from work, having little choice but to don the massive false breasts that Karen presents as a punishment. If he hadn't spent the previous evening schmoozing with clients, he could have been having fun with new lingerie - as it is, Brian finds himself having to dress up in disgrace, unable to wear the sexy bra his wife bought him because of how big his boobs are. Instead, he has to make do with a babydoll nightdress as he eats a humiliating breakfast made with his own milk, then ring his boss to explain why he won't be able to come in. See how he fares in Something On His Chest.
The longer that a man has to wear big false breasts, the more he'll want to be spared their maddening wobble and cumbersome weight, with even the sturdiest of bras barely reducing the challenge on his body as his conspicuous curves call the eyes of all around. Is it more unmanly to have to suffer an uncontrolled bounce or to surrender to colossal cups and straining straps? The humiliated men in these stories don't get much choice in the matter, having to wear what they're told as they learn what it's like to be a well-endowed woman. Each is going to suffer shame because of the sizeable silicone, burdened by his bust.
Buy your copy now!
burdened by his bust is available in the following formats: (which should I buy?)
By buying a copy of this book, you do more than merely get yourself an arousing read! As well as encouraging the author, sales support the brassièred website, helping to promote the positive aspects of lingerie discipline, male chastity and men as maids in loving female led relationships.