bras, bras, bras
you'll wear them for me!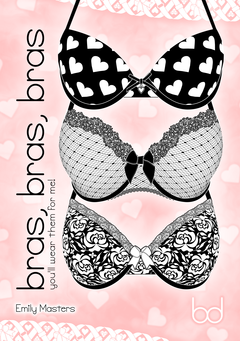 Buy your copy now!
I want you to wear a bra. That's right, a bra - like a woman! You're going to know what it's like to have straps on your shoulders and cups on your chest, constantly aware of its control. It thrills me to think of you trapped in a bra's tight embrace, trying to keep its shameful lines hidden beneath your shirt - that is, when you're not showing them more openly! It's such a turn on for me to see you fasten the clasp and stretch the elastic, yet even more exciting to make you stay at their mercy as you go about your day.
Men don't wear bras, but you will, because I want you to. It's the only way you can satisfy me, and I call the shots! Whether white, pink or black, with satin and lace, ribbons and bows - the most feminine of garments, holding you helpless while I have my way! Sometimes you'll pad it, sometimes you'll stay flat, but you'll never be able to forget what you're wearing - a bra, like a submissive husband should. Bras, bras, bras - you'll wear them for me!
Just because you're at work doesn't mean I don't think of you, my bra-wearing husband! A slipping strap reminds me of how you must be struggling with yours, but fantasising about your plight in a bra and panties isn't enough for me - no, I need you tell me right now, ringing you so I can tease you in your office. Was that your secretary you were speaking with before you sought safety behind closed doors? We're going to discuss what she's wearing beneath her blouse, comparing her shamelessly flaunted bra to the simpler white lace that ensures you stay mine. You'll snap your bra straps for me before I hang up the phone, confessing just how much I control you when I ask "What's she wearing?".

No-one would think you were wearing panties beneath your smart suit and tie, but I'm not fooled by your disguise, knowing you wear women's knickers to work every day! You'll drop your trousers and reveal the floral lace for me, but that's only the start of the game I want to play. You are wearing a matching bra, aren't you? No? Then you're going to have to strip off and strap yourself into one, there being no arguing when I've made up my mind. You'll tell me what I want to hear while caressing its cups, then allow me to sew the clasp closed, so I can be sure that you'll keep your promise to keep it on. All day, just like a woman - that's what you'll do when I tell you "You have to wear a bra!".

You're too slow getting into the panty girdle and stockings I put out for you, providing me all the excuse I need to insist on you wearing a bra as well. If I have to fasten its clasp for you, then you'll be padding its cups too, but an ambiguous bust won't be all you have to worry about when I take you shopping. It won't be long before you're surrounded by lingerie in more ways than one, a trip to my favourite store seeing you blush as I hold a hot pink sports bra against your body. You won't be leaving without buying it, but before I make you stand in line, we'll be looking at whether we can't find bras you could wear every day. Just wait until I ask "Have they got that in your size?".

I long to take off my bra, dreaming of transferring its burden to you. You don't know it yet, but you're going to be encumbered by breasts all weekend, the bra that I drop into your lap just the beginning of your troubles. Put it on for me, then fill its cups with those heavy forms, suffering the wobbling silicone as you massage away the marks that my own bra has made. You'll soon bear similar lines because of your submission, but you won't be able to escape the need for support as you touch me the way I've trained you. After changing into a sexy little babydoll, you're going to wake up with breasts, needing to choose your own bra when I tell you "You're going to know what it's like".
Whether you're desperately trying to conceal the cups, or have no choice but to contend with womanly curves, you'll always be aware of their presence when I make you wear a bra. I'll share my thoughts with you as you surrender to its clutches, leaving you in no doubt what your submission does for me. At home, at work, and in public, you'll enjoy my attention in such emasculating attire, demonstrating your devotion by wearing the same as women do every day! You'll taste the wetness between my legs before I'm done with you, feeling my fingers slip under your straps as you accept uncomfortable underwires for my pleasure. Bras, bras, bras - in these erotic monologues, you'll wear them for me!
Buy your copy now!
bras, bras, bras is available in the following formats: (which should I buy?)
Paperback - for those who love real books

PDF - for immediate download and enjoyment on your computer

EPUB - for most e-readers

iTunes - for iPads, iPods and iPhones

nook - for Barnes & Noble e-readers

Kindle

- for all Amazon devices
By buying a copy of this book, you do more than merely get yourself an arousing read! As well as encouraging the author, sales support the brassièred website, helping to promote the positive aspects of lingerie discipline, male chastity and men as maids in loving female led relationships.