bimbo, secretary, ballerina, bride
sissy husbands taking on the most feminine of roles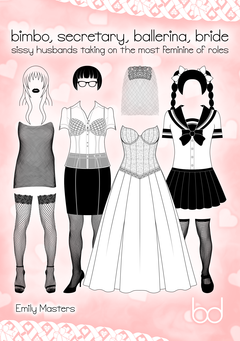 Buy your copy now!
You can be sure that a man's attitude will match his attire when he wears women's clothing for his wife - especially when it's one of the very special outfits featured in these stories about sissy husbands getting girly. Forced to adopt supremely feminine roles as a result of their clothes, these crossdressing men are stripped of every last trace of manliness, developing a submission that their dominant wives are only too keen to take advantage of!
Whether he's working as a secretary for a female boss or walking down the aisle in a big, white bridal gown, dressing the part leaves a submissive husband in no doubt about his place - one that's ordinarily just for girls! From being transformed into a busty bimbo to performing as a pretty ballerina, each of these sissies finds himself learning womanly secrets along the way. Bimbo, secretary, ballerina, bride - whichever their wives choose to dress them up as, these feminized men are sure to fall under the spell of the clothes they wear!
Shaun is in danger of bursting out of his bra when his wife decides to upgrade his breasts, but his stunning silicone cleavage is only the first step towards her turning him into his airheaded alter ego, Tiffany. Chelsea augments her husband's pneumatic proportions with padded panties, barely disguising his bombshell body beneath a skin-tight top and jeans before telling him they're going to hit the streets - in sky-high stilettos! With his wife ensuring he has a wiggle in his walk, her bimbo husband can't help turning heads, but he'll end up being treated like one of the girls when he gets his nails done. Discover how this smoking hot sexpot handles having acrylics in A Treat for Tiffany.

The tables are turned on Daryl when he swaps suit and tie for skirt and blouse, with this businessman slipping into stockings and heels to become his wife's secretary. What he hopes will be some sexy role-play soon turns serious when Jade calls with a pressing paperwork crisis, with the needs of the company forcing her husband to work overtime - dressed as a woman! This very personal assistant will be employed for far more intimate duties than mere filing before the evening is out, with the new girl in the office ending up under the boss's desk - but not before having been disciplined for poor performance! Follow this sissy secretary's submissive adventures in Working for His Wife.

Sitting on a little stool in his pleated skirt, Terry discovers that the life of a sissy schoolgirl is far from simple when his wife insists that he finishes his homework before he's allowed to pee. When his efforts disappoint her, Lydia puts her husband over her knee and pulls down his panties for a humiliating spanking - one that sees Terry crying like a girl, still in his knee socks and training bra! It isn't long, however, before this feminized man has swapped his school uniform for something equally emasculating - a pretty pink leotard and tutu, complete with tights, as he becomes a sissy ballerina. Find out how he gets on in front of his wife's friend in The Ballet Lesson.

Carl is no stranger to women's clothing, but his humble housemaid's uniform can't compare to what he'll find himself wearing when his wife's friends decide to help the couple renew their marriage vows - with him as the bride! A trip to a bridal boutique sees this sissy husband fitted for a gown, but his body will need a helping hand if he's to wear his wedding dress like a woman. The corset and petticoats that transform his figure are the least of Carl's concerns when his bridesmaids want to feminize him further, however, with the three dominant women determined to turn the man who serves them tea into a beautiful bride for his big day. Read how Carl leaves his former life behind in Wedded Bliss.
Bimbo, secretary, ballerina, bride - each of these archetypal roles embodies an aspect of submissive femininity that's sure to affect any man made to adopt it. Powerless to prevent themselves from playing the parts that their wives have picked out for them, the sissies in these stories have no choice but to submit to their clothes, finding themselves growing into their girly outfits as part of loving relationships where the real women take the lead. If you're turned on by the thought of men forsaking their manliness in favour of behaviour that matches their feminine wardrobe, then you'll want to read these exciting tales!
Buy your copy now!
bimbo, secretary, ballerina, bride is available in the following formats: (which should I buy?)
By buying a copy of this book, you do more than merely get yourself an arousing read! As well as encouraging the author, sales support the brassièred website, helping to promote the positive aspects of lingerie discipline, male chastity and men as maids in loving female led relationships.