belted for business
corporate subordinates kept chaste by strict female bosses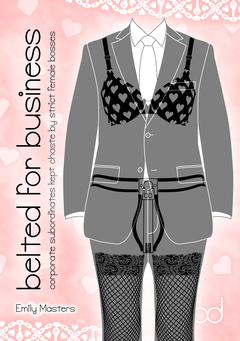 Buy your copy now!
Imagine having to wear a chastity belt that can only be unlocked by your boss! That's what's expected of the men in these stories about office submission, but their female superiors insist on them surrendering to more than just steel. As if it wasn't emasculating enough having to work while kept sexually denied, the women in charge want their subordinates to show their devotion by wearing stockings, panties and bras - sometimes in secret, but sometimes more openly!
A shirt and tie does nothing to stop the outline of cups and straps showing for all to see, but even when these corporate sissies are permitted a jacket to hide their shame, they can't forget how they're feminized for the amusement of those in authority. Yet each appreciates the control that their female managers impose, wanting nothing more than to please the queen bee by wearing women's underwear to work. In these female-led office fantasies, full-time lingerie is just another consequence of being belted for business.
Daniel has no inkling of what's in store for him before his first interview, but when his future boss challenges him to wear a chastity device to show that he's serious about working for her, he finds himself taking the first step down a road that will see him submit to much more. The strict Ms Winterbottom is a stickler for appropriate attire, soon requiring him to wear panties even as she keeps him denied for ever longer periods of time. He's rendered still more helpless as his superior upgrades her means of control, having to accept a chastity belt that marks him as a company asset! Look back with this feminized man as he considers how he came to wear a bra to work in Keeping His Mind on the Job.

John once coveted the corner office, but he's long since surrendered it to the woman in charge - the same woman who owns his manhood thanks to the metal that she alone holds the key to. Miss Thompson knows exactly how to motivate a man with a weakness for women's underwear, first making him wear panties, then a bra beneath his suit and tie. Stockings and a garter belt become just another part of his working wardrobe, with John's duties extending to satisfying his superior's sexual needs - despite his own being thwarted by sturdy steel as he takes his place under her desk. Even when his boss unlocks his chastity belt for an important call, he won't be coming - as you'll read in Stress Balls.

Just because his boss is away on a business trip, it doesn't mean that James can relax - indeed, he has to get up even earlier than usual, presenting himself fully dressed so his female superior can receive his report via video call. For a man locked in a chastity belt, that means donning all the lingerie that a woman would wear, needing to be shown on screen to satisfy Miss Hargreaves. She won't be the only one who'll be seeing the extent of his submission, however, with a surprise medical examination leaving this belted businessman having to drop his trousers in front of a doctor and nurse. Will he be able to provide the sample necessary to avoid punishment? Find out in Monday Morning.

Roger can't enjoy the charms of the young woman he's been told to work with - indeed, he must forget her completely when his boss calls for coffee. His chastity belt ensures he obeys his superior's every command, even when Miss Berridge instructs him to take off his jacket so that her visitor can see how he has to wear a bra. The humiliating meeting with human resources is only the first stage of her plan to appoint him as her personal assistant - a position that Roger must not only apply for, but be interviewed for as well, brushing up his skills if he's to beat the competition. Discover how he fares against secretaries far more comfortable wearing skirts and blouses in Career Advancement.
When his manager holds the key to his chastity belt, a man will go to great lengths to please her, willingly wearing lingerie to work if that's what she requires. Whether he's showing his devotion under her desk or simply slaving away at his own, he can never forget the control his superior wields, his stockings, panties and bra stressing his subordinate status even as she takes his submission for granted. In these stories about corporate chastity, male underlings must emasculate themselves in the hope of finding favour with their female bosses, but it's all part of the job when they're belted for business.
Buy your copy now!
belted for business is available in the following formats: (which should I buy?)
By buying a copy of this book, you do more than merely get yourself an arousing read! As well as encouraging the author, sales support the brassièred website, helping to promote the positive aspects of lingerie discipline, male chastity and men as maids in loving female led relationships.