a most emasculating embrace
husbands held helpless in panty girdles and longline brassières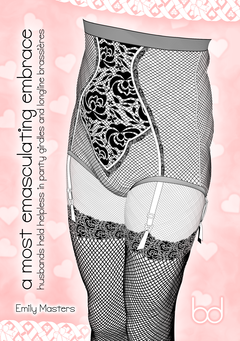 Buy your copy now!
Submissive men soon learn the real reason why control panties are so called when they must wear such stifling garments themselves, surrendering their sex to the strict grip of elastic to satisfy their wives. The feminized husbands in these stories about shapewear discipline face far more in the way of foundation wear, however, frustrated by the most unforgiving of old-fashioned lingerie. Longline brassières and panty girdles conspire to keep them confined, layered with pantyhose and stockings to make sure they can't get up to any mischief.
Whether he's made to wear women's shapewear as a punishment or simply so he understands his place, a man can't forget that his wife's in charge when his body is controlled by the firmest of foundations. Regardless of whether he wears a suit or a dress on top, he's sure to feel the straps of his bra on his shoulders and the gusset of his girdle as it flattens his groin, his obedience assured while he remains trapped in a most emasculating embrace.
Robert has the most shameful of secrets to hide from his secretary, but that doesn't stop him fantasising about her discovering that he has to wear a bra to work. Not the sexy black kind that torments him through her blouse, but a formidable longline affair that's secured like his panty girdle, a numbered seal preventing him taking it off without his wife finding out. He might be a big cheese in the boardroom, but everything changes when this businessman comes home, Robert having to strip down to his shapewear to show Marlene he's been good. Completely under her control, he'll confess to everything before being sent to change into even more emasculating attire, as you'll read in The Real Boss.

Control panties, pantyhose and a panty girdle - that's just the start of getting dressed for Dean, who also has to wear a longline bra and stockings to please his wife. When Jenny insists upon a skirt and blouse as well, he doubts whether she's serious about going shopping, yet this feminized man soon finds himself in the fitting room of a second-hand clothing shop! With only a curtain standing between him and humiliation, he has little choice but to model the vintage dress and apron that Jenny has found for her new fifties housewife, Dean's foundation garments making it easy for him to slip into such submissive garb. Will getting out of them be as straightforward? Find out in Shopping in Shapewear.

After letting his wife down, Shaun has to get dressed for discipline, not daring to disappoint Harriet further by shirking the necessary shapewear. Any hopes he might have of a sturdy girdle sparing him the full force of her hairbrush are swiftly dashed, however, with this feminized husband no sooner having struggled his way into the unforgiving garment than he's having to pull it down again! Spread over his wife's knee for a bare bottom spanking, he'll be plugged by the time she decides to seal in the soreness, but a second girdle is far from the end of this submissive man's troubles - not when he has to fasten longline bras behind his back! Follow his fortunes in Harriet's Hairbrush.

Steven's love of skimpy lingerie comes back to bite him as he struggles to clean the house, with this sissy maid's silly little suspender belt failing to stop his stockings from slipping. Begging his wife for something more supportive, he discovers a very different world of women's underwear, dressing for domestic service in a demanding combination of control panties, opaque pantyhose and an tight panty girdle. A longline brassière holds his breasts equally firmly in place, but his wife has a wicked trick up her sleeve - she wants him to wear flimsy frillies on top of such imposing underpinnings, frustrating him further with a raunchy thong and open cup bra. Discover how he fares in Lingerie Maid.
Figure-hugging foundation wear plays a fundamental part in these stories about female led relationships, it being impossible for a man to assert himself too much when he's caught in the clutches of such controlling garments. Firm fabric and fiddly fasteners come together to see these submissive husbands helplessly in thrall to their wives, with every additional layer making further demands on such devilishly dominated men. Each has to wear more women's underwear than any woman ever would, shaped and suppressed by a most emasculated embrace.
Buy your copy now!
a most emasculating embrace is available in the following formats: (which should I buy?)
Paperback - for those who love real books

PDF - for immediate download and enjoyment on your computer

EPUB - for most e-readers (including Apple and Nook)

Kindle

- for all Amazon devices
By buying a copy of this book, you do more than merely get yourself an arousing read! As well as encouraging the author, sales support the brassièred website, helping to promote the positive aspects of lingerie discipline, male chastity and men as maids in loving female led relationships.