a love of lingerie
for these couples, women's underwear isn't just for the girls!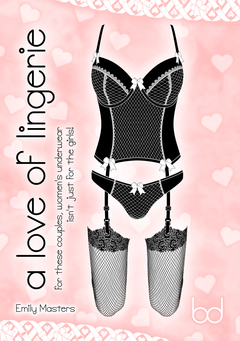 Buy your copy now!
Do you love lingerie? These couples certainly do - so much so that the men wear it too! Whether it's a boyfriend finding himself dressed in women's underwear for the very first time, a man taken shopping in frilly pink panties or a husband who has to wear a bra to work, you'll find it all here in this exciting collection of erotic feminization stories. There's nothing like having a man don a little satin and lace to spice things up, with women's underwear keeping him on his toes wherever he wears it - as these men are about to discover!
Far from just the wives and girlfriends who dress up in these stories about men wearing lingerie, with bras and panties proving just as powerful when he wears them for her pleasure! Each of these exciting tales distils the very essence of erotic feminization into a scenario that's as plausible as it is passionate, featuring loving couples whose respect and affection for one another becomes ever stronger as a result of sharing a love of lingerie.
In The Promise, you'll read how Rachael lures her boyfriend into temptation, taking him on a roller-coaster shopping ride he'll never forget. While fooling around in the bedroom one night, wearing lingerie seems like a small price to pay for her intimate attentions, but it's a very different story when she insists he wear it the next day - in public! How will Mark fare when he discovers his girlfriend isn't the only one they're out shopping for?

How does an errant crustacean provide an unexpected answer to an impossibly hot summer predicament for Clive? His wife Linda has always insisted that he wear lingerie under his suit, but with the temperature rising in the office in more ways than one, will he manage to keep his cool in bra and panties? Find out what a spot of sunbathing can do for a man who wears underwear more suited to a secretary in The Prawn.

It's every woman's dream to have a servant at her beck and call, but for Sarah, the maid in question is her man, all dolled up in lace and satin! David readily goes down on his knees to please, knowing that his place is to serve at her feet, but that doesn't mean she's going to go easy on him - not when they're both wearing stockings! The Pedicure is the tale of one man's devotion to his wife, pampering her in the most intimate of ways as they enjoy a very special night in together.

Working as an assistant in a lingerie shop, Annabel has seen more than her fair share of unusual customers, but a chance encounter with another woman makes her think of what she sells in a new light. Her relationship with Simon will never be the same again once she starts buying for him as well as herself, but how will she persuade her boyfriend to don his first bra and panties? Follow the adventures of this feisty heroine as she discovers the difference that an extra set of sexy skimpies can make between the sheets in The Purchase.
If you've a penchant for panties, you're sure to enjoy finding out what women's underwear does for these couples - both in and out of the bedroom! From a woman taking her first tentative steps towards dressing up her man to a husband who accepts wearing women's underwear for his wife as a fact of life, they're all drawn closer by the unique power of this most intimate of attire. If you love lingerie, you'll love a love of lingerie!
Buy your copy now!
a love of lingerie is available in the following formats: (which should I buy?)
Paperback - for those who love real books

PDF - for immediate download and enjoyment on your computer

EPUB - for most e-readers

iTunes - for iPads, iPods and iPhones

nook - for Barnes & Noble e-readers

Kindle

- for all Amazon devices
By buying a copy of this book, you do more than merely get yourself an arousing read! As well as encouraging the author, sales support the brassièred website, helping to promote the positive aspects of lingerie discipline, male chastity and men as maids in loving female led relationships.